SCI Superstar: Carol Taylor
https://spinalpedia.com/sci-superstar-carol-taylor/
Adaptive clothing is finally being seen in mainstream fashion all over the world, thanks to adaptive fashion icons like Carol Taylor. You can find Carol Taylor—a C5-6 quadriplegic, painter, and lawyer—in the Gold Coast of Queensland, Australia using her unique skill set to help pave the way for adaptive fashion in her corner of the world.
Adaptive fashion, however, was not always on Carol's radar as a career path. Read on to learn how Carol discovered she had a talent for adaptive fashion design years after working as a lawyer in Australia.
Why She's Fearless
Carol's life was in high gear at the time of her injury. She had been married for three years and working as a lawyer for eight years. "I worked very hard to become a lawyer, working 3 jobs to pay my way through law school," she says. "I qualified as a lawyer in 1993 and by 1998 I established my own law firm specialising in immigration law and commercial litigation."
In 2001, Carol and her husband—while innocently playing hooky from work —hit black ice in their car, causing the car to roll. Carol broke her neck in the process. "The roof caved in and hit me on the back of the neck instantly and completely severing my spinal cord at the C5/6 level. Initially I was paralysed from the neck down. I looked down where my legs landed and in that second knew that I would never walk again."
Many people, when first paralyzed, only want to know one thing: when will they walk again. For Carol, she only wanted to know if she could still have a baby. The doctors at the time advised her against Carol having a child, which led her into a severe depression. Fortunately, after many failed attempts and miscarriages, Carol and her husband found themselves expecting in 2006.
"We sought the help of a naturopath. In our minds it was one last very desperate attempt, however one month later we were pregnant the old-fashioned way." After five months of bed rest, Carol successfully gave birth to her son D'arcy. "Parenting with quadriplegia presents very considerable challenges, however, being a mum is the best job I have ever had."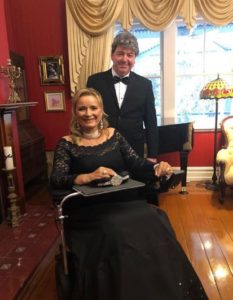 When Carol was ready to return to work, she decided to set up her own firm again, but this time, she would use advanced property transfer technology that allowed her to work from wherever there is an Internet connection. "My wheelchair is 'a mobile office,'" she says. "We practice what I like to call 'wheelchair friendly' law;' predominantly Property Law, Wills and Deceased Estates."
What's Next?
While practicing as a lawyer and being a mother, Carol honed in on her newfound passion that she discovered after her injury: painting. She now sells her paintings and has won many awards. In 2018, she won $10,000 after receiving the 2018 QLD Access Arts Achievement Award from Access Arts QLD. With this money, she decided to see if she could try a new form of art – adaptive fashion design.
"During my 18 years as a quadriplegic I have been so frustrated with the shopping experience, as I was unable to find clothing that would work for me in my wheelchair." After years of having custom clothing made for her by dressmakers, she decided to use the $10,000 from her award to fund her next passion project: adaptive fashion. Currently, she is the only quadriplegic in the world who designs adaptive clothing.
"I decided when I won this award that I would use the award to put my artwork on fabric and see whether I could create fun and fashionable accessible clothing for others with disability." And that is exactly what Carol did. "My designs draw inspiration from classic Hollywood screen legends. We must each learn to embrace what we cannot change, and celebrate what we can. I use magnets and invisible zips and even magnetic zips." She also focuses on making sure the seams are in the right place, as well as looking closely at the shape of the garment so the clothing is as flattering as possible.
After seeing her waistcoats for men with quadriplegia, Access Arts asked Carol if they could put her waistcoats and other clothing in a gallery in Brisbane. And after that, an even bigger opportunity came her way: she was asked to create an adaptive collection for the Mercedes-Benz fashion show during Fashion Week in Australia. Carol immediately said yes and put together her collection in 12 weeks.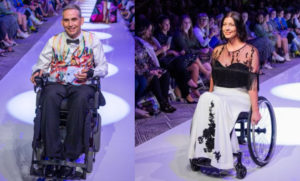 Carol is now thinking about her next moves; she is considering possibly selling her clothes online. Her company is called MeQ, standing for "Me too," in reference to being disabled and included in fashion, and "Q" standing for quadriplegic. Carol says, "The business woman in me thinks that inclusive fashion isn't just a nice charitable thing to do, it's also really smart business! – In Australia alone 20% of the Australian population have a disability, we have 4.3 million Australians with disability, that's a really big market share to ignore."
When she's not busy taking over the adaptive fashion world, Carol enjoys gardening, cooking and being a mom. Carol shares her incredible insight on living a fulfilling life with disability: "I have lived two lives and have only memories of that former person. Now I am busy writing a new chapter and this new chapter has a woman that is busier, more dynamic and more resilient than ever before."
---