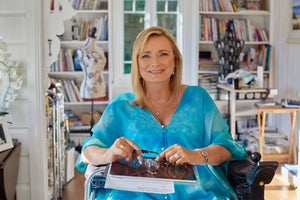 Australia's First
Quadriplegic Designer.
Artist and Designer Carol Taylor
"I might be on wheels but my fashion moves me forward"
MEET ARTIST AND DESIGNER
Carol Taylor
In 2001 an accident left Carol a quadriplegic. Carol's spinal cord was severed resulting in complete paralysis from the chest down. Despite having only some arm movement but complete lack of hand or finger movement Carol was determined to find and embrace the beauty of life. Carol who never painted before her injury spent years teaching herself to use her paralysed hands and with the help of makeshift modifications to brushes and some specially made tools Carol found a way to draw, to paint, and to create.
CAROL'S HISTORY
Learn more about the Carol Taylor and Christina Stephens Partnership
Artwork by Carol Taylor.